Funding an Overnight Social Media Sensation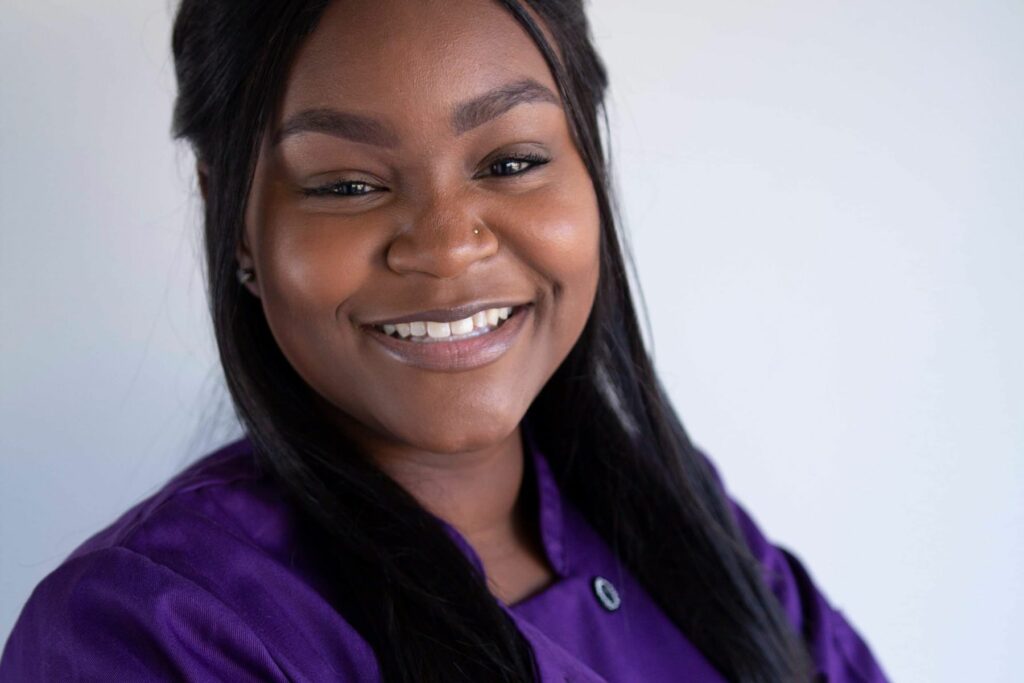 "If I didn't get a loan, my last resort would have been to refinance my house… so the Economic Justice Fund was a blessing."
KE'ANNA
Ke'Anna, a classically trained private chef from Vista, California, was thriving in her business and working with a growing number of regular clients.
Then the pandemic hit.
"I couldn't work anymore because I couldn't just go into people's homes," she explains. "Nobody wanted to be around anybody. So, I had to figure out another way to make an income."
She decided to dust off the ingredient list for her homemade, vegan barbeque sauce. Ke'Anna first developed the sauce for her brother's sports fundraiser when she was 15 years old and had been selling it occasionally to family and friends.
She decided to professionally bottle the sweet glaze sauce and craft two new flavors—an all-purpose marinade and Caribbean jerk sauce. She launched the three products online, and RUE Kitchen was born.
Soon after launch, her condiments caught the attention of vegan social media star Tabitha Brown. The influencer used one of Ke'Anna's sauces in a video broadcasted to her more than four million followers.
"I kind of blew up overnight, and I could not keep up with production," Ke'Anna says.
As exciting as it was to receive the attention, she quickly realized she needed a manufacturer to keep up with demand.
Her business was drowning in unfulfilled orders, with some customers waiting up to two months to receive their sauces.
Ke'Anna knew she needed capital to immediately upgrade her commercial production equipment and contract a manufacturing facility to fulfill the orders.
So, she started searching for a business loan.
Obtaining the "right" startup capital
When food entrepreneurs seek funding, it can be challenging to accurately estimate how much money they'll need to fulfill inventory demands.
Ingredient prices can fluctuate daily, and they were even more volatile when Ke'Anna launched her business during the pandemic as supply chains were crippled. As a result, some of her sauce ingredients became unavailable, and replacements sometimes altered the taste or tripled the overall price.
"It can be a little chaotic," she says.
If you're pursuing funding for a food business, Ke'Anna recommends carefully calculating the ingredient costs in price projections to leave room for growth and other factors.
"At the end of it all, you may not realize that you needed that much money," she explains.
Calculating how much you need can be complex but finding startup capital is an even more significant challenge.
"People either want a percentage of your company, and they want to tell you what to do, or they want to give you way less than what you're asking for," Ke'Anna says. "And most banks are very cautious of taking risks with early-stage food businesses. And at the time when I was starting, we were going through a world crisis, so people were really trying to hold on to their money."
Outside of a handful of banks with sky-high interest rates, she says the Economic Justice Fund (EJF) was the only financial institution to "give her a fair shot."
"I appreciate it," she says. "Everyone else was just trying to take me for everything I had."
The money she needed and fast
Ke'Anna says that after discovering EJF through a referral, she polished her business plan and applied for financing.
"The Economic Justice Fund has been a blessing, for sure!"
EJF approved her company for a loan in February 2021 to fund the manufacturing costs and provided a second loan a year later to jumpstart inventory for her BBQ sauce.
She says receiving the funds so quickly after approval was a game-changer in helping her continue fulfilling orders.
"I've heard from other people who have received business loans…that it can take almost as long as the application process or longer to get the money once approved," she says. "Then it's three months later when you finally get the money. With the Economic Justice Fund sending the money within 24 hours of signing my loan agreement, I could start production with my manufacturer immediately."
Without loans, she would have had to refinance her house
Receiving the capital to manufacture her sauces was crucial for Ke'Anna's RUE Kitchen to stay in business.
She says if she hadn't received the funds, her last resort would have been to refinance her house and take out a loan on her home to keep the business afloat.
"I don't know if I would have been able to keep the company going or if I would have just lost my drive and quit altogether because it just would have seemed like every door was shutting on me," she explains.
While she says business is still akin to a "roller coaster," she is excited about the future. You can find her vegan sauce products on her website, in select stores, and through online sellers, including Amazon and Walmart.  Her next goal is to get RUE Kitchen sauces on the shelves of major big box retailers around the country.