Funding an Eco-friendly Entrepreneur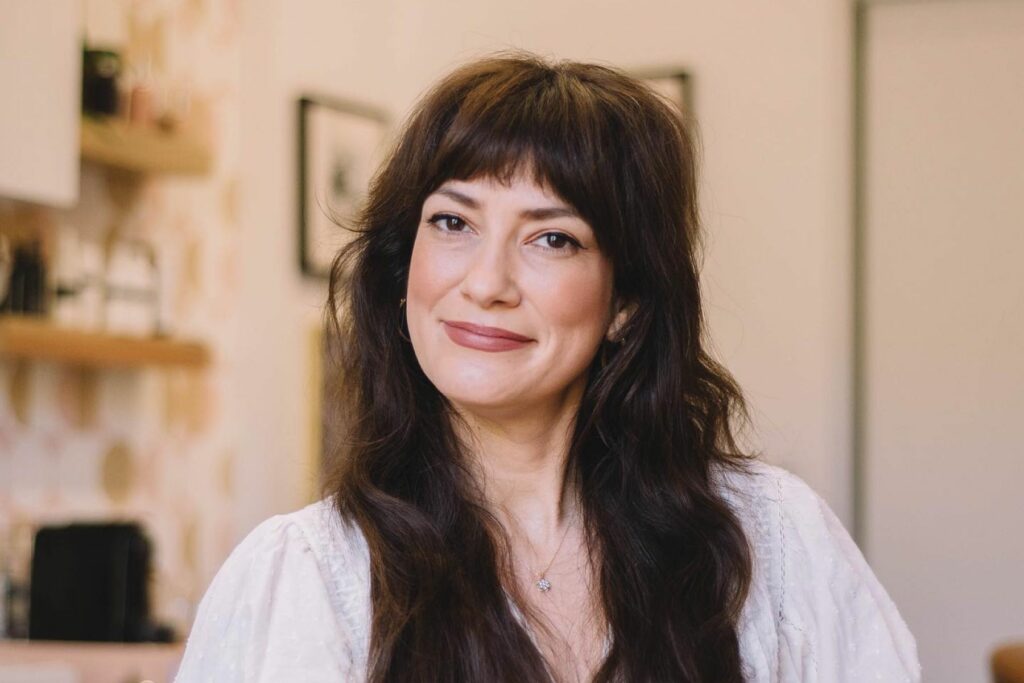 "I really enjoyed working with Economic Justice Fund because of their personalized approach. My experience didn't feel like the times when I worked with some big, automated bank. It felt very personal and understanding."

JENNIFER
Jennifer, a makeup artist turned hairstylist working near Hollywood, California, was a thriving entrepreneur in early 2020.
Her small business, Naked Eye Beauty Organic Hair Salon, was renting a private studio and styling a growing number of regular clients. Jennifer had found her niche using organic, ammonia-free hair products business was booming. In addition, she and her husband had recently purchased a new home for their growing family of two young children.
"Everything was going great until the pandemic hit," she says. "Then we were forced to close the studio several times. And each time, it was closed for about two months, and we couldn't work because of shutdowns."
She said it was a scary time to be a hairstylist.
"If I can't work in my studio, I can't make money," she explains. "And I had a lot of bills to pay."
Jennifer wasn't sure her clients would return even after the world reopened, fearing the increased number of social media hair tutorials would prompt people to do their own hair instead of hiring stylists.
"I went months thinking, 'Are all my clients going to leave me?" she says. "'Are people still going to want to get their hair done?' There were so many unknowns."
Finding new ways to stay afloat
Fortunately, Jennifer's husband was able to work throughout the pandemic, which helped keep the family's expenses at bay. However, Jennifer still had to rely on high-interest credit cards to support her business.
Realizing she needed to catch up on debt payments, she discovered the Economic Justice Fund (EJF) and applied for a small business loan.
"I had never taken out a small business loan before," she says. "I was a bit nervous, but after speaking to the people there, I felt very secure with it. I really liked working with the team at the Economic Justice Fund."
Jennifer received a critically needed loan from EJF in the summer of 2020, well before receiving a Paycheck Protection Program (PPP) loan from the federal government.
She says receiving the funds so quickly was "crucial," enabling her to pay off high-interest debt and convert her three-car garage into a temporary hair studio. She hired a renovation team to outfit the garage space with plumbing, new flooring and lighting within two weeks. This allowed her to accept clients when the shutdown was temporarily lifted that summer. She still sees clients in her converted garage space at least two times a week.
In February 2021, Jennifer fully reopened her Naked Eye Beauty Organic Hair Salon at a new location in Pasadena.
Promoting organic hairstyling
Jennifer says business is again booming.
"I was really blown away by how much business I got once I was able to come back," she says.
She has seen an influx of new and returning clients.
"Also, I think during the shutdown, a lot of people found me on Instagram and then started booking with me once I announced I was open again. So that was really cool," she explains.
And as for her early pandemic fears that people would not use hairstylists anymore?
"People come in and often say, 'Oh, my God, I had my husband cut my hair, and it was awful.' Or 'I tried to color my own hair, but my whole bathroom got dirty' and stuff like that," she says. "So, I now feel, 'Oh, good. People still need me!'"
Her skills and commitment to organic and eco-friendly styling have attracted celebrities, such as actress Zoey Deschanel and rock band Twin Temple, as clients.
"Before working with only organic products, I would break out in rashes easily from other products," Jennifer says. "So, it's been nice to connect with a community of health-conscious people that understand and support what I care about and see how it impacts them."
As for the future, Jennifer says she's considering launching her own hair product line that serves people with skin sensitivities.