Economic Justice Fund Celebrates Significant Milestone: 100th Loan Disbursed
Sacramento, Calif. (September 17, 2023) – Today, the Economic Justice Fund (EJF) announced a significant milestone in its mission to foster a financial system that provides equal access to financing and opportunity for all Americans. The organization has just disbursed its 100th loan since its first full year of lending began in 2021.
This milestone is a momentous achievement in EJF's growth in providing equitable financial resources and advancing economic mobility to individuals and families often overlooked by traditional financial institutions.
Through innovative financial products, character-based lending, and a deep commitment to its mission, EJF has reached the milestone of 100 loans disbursed. EJF is committed to making high-impact loans that enable borrowers who would not have access to affordable financing to pay an emergency expense, pay off a predatory loan, begin entrepreneurship, and build their credit scores.
The 100th loan represents not only a numerical achievement, it highlights EJF's commitment to empowering individuals and entrepreneurs by offering them the financial resources and support they need to thrive. It is also a testament to the EJF's impact on the lives of each borrower and their families. 
The work of EJF  is about more than making loans–it's about transforming lives. Please read about how some of our 100 borrowers have benefited from our loans. Click here for the success stories.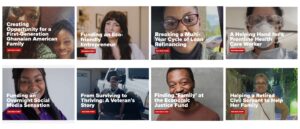 ABOUT THE ECONOMIC JUSTICE FUND
The Economic Justice Fund is a mission-driven, nonprofit financial institution dedicated to providing fair, affordable financing and free credit-building services to empower borrowers to realize their dreams. Our loans have low fixed rates, no application fees, no origination fees, no servicing fees, and no prepayment fees. We also offer flexible terms and flexible underwriting to meet the needs of a wide range of borrowers. For more information, visit www.economicjusticefund.org.